Warranty

Up to 7 years on selected products

Fast DELIVERY

Same day dispatch before 2:00pm

Customer Service

Superior before and after sales support

100% Australian

All products ship from Australia
Trending Right Now
From office to gaming check out our most popular products right now. Affordable Yet Superior
Introducing the ultimate solution for a healthier, more productive workspace.
We understand the importance of ergonomics and wellness in the modern workplace, which is why we have worked tirelessly to bring you a premium desk that is both highly affordable and built to last. Our desks come with a 7-year warranty, ensuring that you can rely on them for years to come. Our desks are equipped with dual motors, allowing you to effortlessly adjust the height to suit your needs. The solid timber tops are not only stylish but also durable, designed to withstand daily use without fault.
Whether you're looking to improve your posture, increase energy levels, or simply enjoy the benefits of standing while you work, our Stand Up Desks are the perfect solution. Order now and experience the difference for yourself!
Commercial Solutions
Ask us about our wholesale pricing structure for office wide fit outs and higher volume orders.
Implementing standing desks in the workplace can have numerous benefits for your team and your business as a whole. By promoting healthier habits and reducing the risks of chronic conditions, you can help improve the overall health and productivity of your staff. Standing desks can also reduce absenteeism and sick days while enhancing employee satisfaction and comfort. In addition, offering standing desks as an option for your employees can demonstrate your commitment to their well-being and improve company culture.
With the increasing emphasis on healthy work environments, standing desks can also help your business stand out and attract top talent.
Contact Us Become an Affiliate
Join our growing community of influencers and content creators. Earn up to 10% of every sale that you refer to Deskup.
FIND OUT MORE
Recent Reviews
People love our product and service, see for yourself!
Very happy! I bought the 1600mm long version which is perfect for me. I think the 1800mm would have been that bit too big.
Legs seem fine and go up and down on command as promised on the website, I thought it would grind or make a lot of brrrring noise going up and down but it's very quiet.
It wasn't pre-drilled which was a little bit painful I had to really lean on the screws - but I get why they do that so that people can choose their leg placement.
Very solid desk, arrived next day after ordering!
Super happy with my desk! the amber colour fits really well with all my trinkets and gadgets. Thanks very much!
I have been suffering with a aching and numb bum from being sat at my desk for too many hours per day so thought I would give it a try.
What a life changer it has been, the quality is great and the dual motor system lifts my multiple monitors effortlessly.
Been using this for a week now with no issues, Super happy with the matte black surface too.
Awesome customer service, answered a lot of questions I had and the desk arrived and is really well made. Definitely a good buy!
Purchased some monitor brackets and cable management stuff as well as a full electric desk, The brand of monitor arms they supply is Brateck which I have heard of before.
Delivery was prompt and all the products Deskup supply seem to be really good quality so far.
Good quality desk! The courier actually missed delivering the desk so I asked for help from Deskup to re-arrange a delivery which was a huge help. Thanks again.
Do not waste your money on the 1200 to 1500 dollar options out there, my 1.8m Deskup arrived and it's awesome. Super solid legs, dead quiet and the top is really good. I bought warm white and it looks awesome with all of my other gear.
Setup is pretty easy you can use a screwdriver and the supplied allan key but I got a cordless drill and had it all built in around 15 minutes.
I've been doing up and down a lot and it's been good for working for some reason I get more done standing! Definitely recommend, 5 stars from me.
Latest News
News & free productivity tips.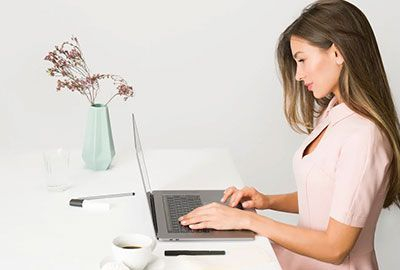 How To Get The Most From Your Stand Up Desk
Stand up desks have become increasingly popular over the past few years, and there are a number of benefits associated with using them. The Stand More AT Work (SMArT Work) study shows that stand up desks don't just help improve physical health; they can also boost employee wellbeing and engagement at work.
Read More